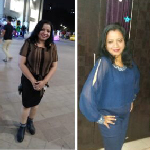 Jyoti Musale
10 Kg Weightloss and got rid of Insulin injections
( Program: Weight loss with Diabetes Management )
Mrs. Rakhee Todankar is the best dietician .Her diet plans are so easy to follow. I am so happy i have reduced my weight by 10 kilo..that to without any medicines or supplementary.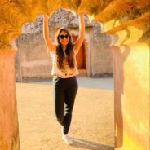 Tanya Chaudhari (From Qatar)
10 Kg Weightloss
( Program: Online consultation- Weight loss with Energy Improvement )
I and my husband both consultated Ms.Rakhee. We were suggested by a friend to consult her. First I started with the consultation as I was really keen on shedding those extra kilos that I gained due to our unhealthy eating habits and work pressure.
Before starting the diet my weight was 67kgs and after following the strict diet under Ms.Rakhee's consultation for 12-13 weeks I was able to loose 11kgs. After seeing me loose those extra kilos my husband too was motiavted to do so. His weight before starting the diet was 87.6kgs and now over the period of 12-13 weeks he has also lost 8-9kgs and his target is to loose a few more kilos.
When we both had started with our respective diet plans it was slightly difficut at the begning to maintain but we were persistent and could see the results in the first 2-3 weeks itself. This weight loss program has given us a feeling of big accomplishment and has helped follows a healthy way of living.
We would like to thank Ms. Rakhee for helping is achieve a healthy lifestyle.
Indraneil Mishra from Qatar
7 kg weightloss
( Program: Online consultation- Healthy Weight loss Program )
Work pressure, stress followed by unhealthy eating habits resulted in my weight gain. I had started becoming lethargic which was totally opposite of what I am. All through my life I have been actively involved in sports. To change this lifestyle I was recommended to join a diet program by Ms. Rakhee. The program fee was reasonable and the diet plan changed every week. Initially I had to submit my body measurements. We discussed my food likes, dislikes, current eating habits, allergies and any ailments. When I started the diet plan it was difficult to maintain but I was persistent. The results were visible after the very first week when I lost 1.8 Kgs.
4 Months now I have lost 7 Kgs which I believe is a big accomplishment. My target weight is 78 Kgs which I am sure to attain soon. I would like to thank Ms. Rakhee for helping me achieve a healthy lifestyle.
Subbu Iyer
14 Kg Weight Loss
( Program: Online Consultation- Healthy Weight loss Program )
A wonderful nutritionist, who understands the subject extremely well. Rakhee gets into hyper-personalisation to suit individual needs and customises the regime. Would strongly recommend to try and subscribe to it. Mind you very well that its not a dieting course where you starve yourselves but is a well thought thru scientific approach with a balanced diet and a healthy living.. Strongly recommend !!
Savy Mudgal
10 Kg Weight loss
( Program: Weight loss with PCOD Management )
I remember I was 78 kgs and lacked motivation to lose weight, that is the time when I decided to consult a dietician,and how lucky I was to have found Ms Rakhee Todankar Ma'am. Just the first meeting with her did something. Not only is she the master in her art,but her conviction, charm and friendliness instantly make you believe that yes, the journey will be easy satisfying and produce the best results. She is extremely patient while listening to your apprehensions and issues and no wonder she smiles all through it because she has the solution for everything.
Under her guidance, I was able to lose 10 Kilos within 2 months with so much ease. While this journey of transformation has been amazing and has continued ever since,I am immensely grateful that I have her to my rescue whenever I need her. She is definitely the best Nutritionist that I know of and would recommend to anyone who seriously is willing to go through this entire process.
Smriti Pandit
14 Kg Weight loss
( Program: Weight loss with Thyroid Management )
Rakhee helped me to lose my weight through a diet as per my preference a complete vegetarian diet. Her diet consultations have been helpful throughout. She observed every minute detail about my medical conditons and prepared a diet chart accordingly. I am thankful that i came across Rakhi she not only helped me lose my weight but also helped me gain my confidence.I lost 14 kgs over the period of time with absolutely healthy diet.
Neeraj Helekar
14 Kg Weight loss
( Program: Weight loss With Energy Improvement )
Ms Rahkee diet program is easy to follow. I am very are happy with the over all results. I am able to reduce 14 kgs in just 3 months. Now i feel more energetic!
The diet chart given on weekly basis was so easy and practical to follow.
It was actually more then the normal diet what i use to have. Didn't feel starved! Thanks to for bringing such positive change in my life. She is extremely good in the subject and I strongly recommend her for those who are looking to reduce weight, without any medicines or suit to all diet plans.
Mayut Bauva & Sweety Bauva
10 Kg Weight loss each
( Program: Weight loss With Immunity booster )
We had started our journey with Rakheefor weightloss…Working with Rakhee for few weeks and I cannot tell you how her program has changed our life. Rakhee is very knowledgeable and she is able to bring an individualized, one-on-one, element to weight management that is missing from other's programs.
We had lost weight by our own before working with Rakhee but had reached an impassable plateau. Then we began following our personal lifestyle plan, we started seeing results. Not only we have been able to loose excess weight but we have developed lifestyle changes which will benefit us for the rest of our life. It is amazing how alert and energized we feel since we followed the program.
Harshita Fatnani
20 Kg Weight loss with Energy Improvement
( Program: Weight loss with Energy Improvement )
Ur the best dietician. Diet given by u is very helpful n easy to follow. All above I'm feeling healthy n confident. I have lost 20kgs in 6 mnths . I Highly Recommend her 100% . Thanku soo much for guiding me for best diet.
Pooja Shah
12 Kg Weight loss
( Program: Healthy Weightloss Program )
I started my Weight loss journey with the w weight of 74.9 kg at age of 26 years with height of just 5.2 feet. When i started i really did not know how far will i go. The journey was not easy but with the great diet that Miss Rakhee provides its actually many a times it becomes to control over your favrouitr food. She really used to support well even when i used to be scared in between if my weight used to go up by some or the other reason, hut she used to calm it down saying its part of the process. Then diet plan that she used to give me included so many varieties that i my self discovered that food can me made in so many healtier ways. Trust me even my family memebers like the some of my recepies like soups, ragi dasa, oats dosa, masoor dal..
Today I have lost almost 10 kgs.. Trust me the journey was not easy with lot of ups and downs in the weight bt it had helped me alot. With people recognising my weight loss as well as myself getting more confident.. Thank you so much Rakhee..
Namrata Satam
7 Kg Weight gain in 2 Months
( Program: Weight Gain with Energy Improvement )
Rakhee is excellent at what she does.The diets & sessions with her have helped me reach my ideal BMI.She takes into consideration your work life balance and plans ur diet by using only natural food options.the meal plans are easy to follow with your regular schedule and the effects are long term.Highly recommended for someone who wants to gain weight/lose weight the healthy way and lead a fit life.
Pramila Kocharekar
Got rid of Insulin injections within 6-7 months
( Program: Insulin Dependent Diabetes Management )
I was on insulin injections for many years to manage my diabetes. My daughter suggested to start diet with Rakhee as she was already with her for weightloss treatment. When I met Rakhee she gave me confidence that with the help of diet we can manage diabetes completely. I started following diet as suggested by her, to my surprise my diabtologist started reducing the dosage and after 6-7 months of regular diet changes i was absolutely off insulin injections and started with basic medicine to maintain the sugar levels. I am thankful to Rakhee for her guidance and her knowledge which helped me to manage may sugar levels till date. Attachments area.
A. Urakar
30 Kg Weightloss
( Program: Weight loss with PCOD Management )
I have been following the diet plan by Rakhee Todankar's Healthy Me! for almost a period of 1 year now. It has not only helped me to lose more than 30 kgs of my weight but has also helped me tremendously to gain back my confidence and self-respect. The diet plans provided by Rakhee are so comfortable and tailor-made that it doesn't make you feel that you are actually on diet. I can't say this as dieting but it is definitely healthy eating which not only energizes your body but also refreshes your body, mind and soul.
Feroj Madarwala
68 Kg weightloss
( Program: Weight loss with Hypertension Management )
I met Rakhee for weight loss with my blood pressure control. Once you meet Rakhee, you will understand that you have come to a safe place to have a perfect diet plan. Rakhee has a lot of patience, She is well equipped with the techniques that provide your accurate body details. Using these details Rakhee then develops specific diet for you. In fact she never restricts eating, she only provides alternative diets that are good and tasty. Her knowledge in regard to Nutrition is at par. I lost 58 kgs in a 1 years time frame, which was unimaginable for me at first, but with guidance and motivation I could reach my healthy body weight.
Even my Hypertension medication has reduced considerably. I feel fresh, energetic and confident than before.
I recommend this place to anyone who is really hard working and wish to be healthy with such simple yet effective diet plan. Highly recommended